The Fastest Way to Buy Bathroom Vanities & Cabinets
The hardest-working pieces of furniture in your home are your bathroom vanities and bathroom cabinets. Pre-assembled bathroom cabinets provide spaces to store the necessities They enable you to lay the foundation for your sink, and anchor the overall style of your bathroom. You can choose the right piece for your space, budget, and style with a few tips from our experts given here to dramatically improve the look and function of your bathroom.
Kickstart a new morning, or unwind after a day's work; your bathroom is a place that fills you up with energy. It would therefore be worth it if you keep it stylish and spacious.
Bathroom cabinets with rounded edges and adjustable legs are perfect If you have kids at home. And don't forget to make the most of your bathroom space with a corner shelf. It helps you keep your toiletries and towels always handy.
The Perfect Fit
Knowing the room measurements before you begin is the perfect start. Note your current cabinetry's height, width, and depth to find the ideal replacement for your bathroom vanity. Consider your bathroom layout and the location of the plumbing before settling for the perfect bathroom vanity and cabinet. Having the plumbing fixtures out of reach can complicate the floor space assembly for large bathroom vanity.
Other room features, including allowances for the swing of bathroom cabinet doors and the slide of drawers into walkways, should fit in the space available. Check whether the bathroom space can accommodate a double sink vanity, or you will have to settle with one.
A double vanity usually stretches from 48″ to 80″ in width, with different configurations available for the sink plumbing and shelving. Plan to lose that extra space since a vanity top can overhang the width of the cabinet by an inch or two in addition to the bathroom cabinet width.
Before the added height of the countertop and sink, most popular cabinet styles are available in a range between 30″ and 36″ tall. Ensure that the vanity height accommodates everyone in the household.
Pre-assembled Bathroom Cabinets
Try the AliveAdvisor Marketplace, where you can get new pre-assembled bathroom cabinets in a flash. No woodworking skills or a big budget is required to achieve a beautiful bathroom remodel. Just select the size of your favourite bathroom cabinet style customized with the perfect accessories, and the set will arrive at your door, ready to install.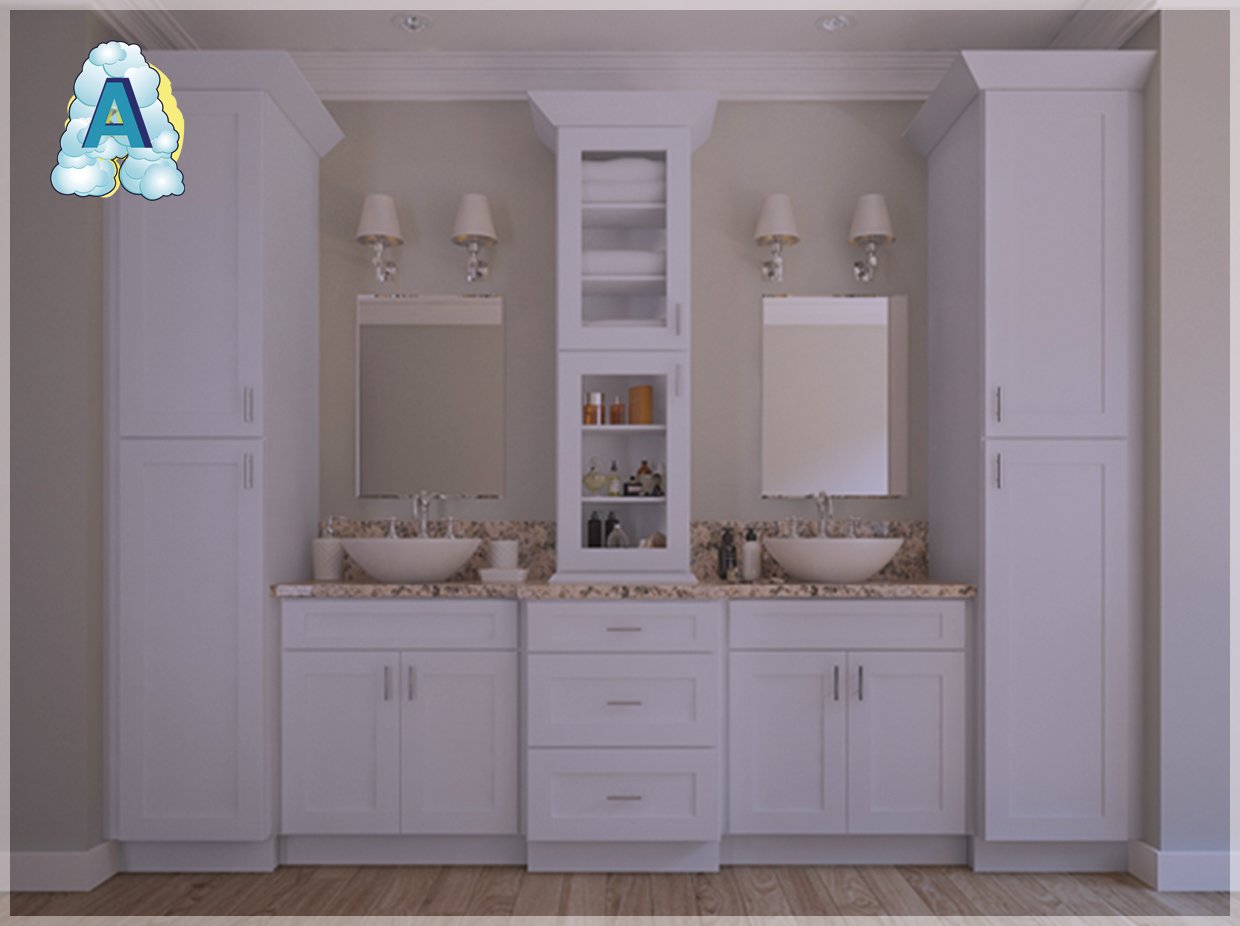 Putting it All Together
Updating your bathroom vanities is a great way to improve this essential little room where you start and end each day. There is always a vanity to match your style, whether your decorative taste is traditional or modern.
A few vendors at the AliveAdvisor Marketplace where their home improvement experts help you find the proper lighting, mirrors, faucets, and the final accessories to pull the design together.
Their DIY specialists will give you step-by-step instructions for completing a project. These experts are knowledgeable and will be glad to answer your questions or assist you in putting together the perfect fit.
Shop at the AliveAdvisor Marketplace
Shop at AliveAdvisor marketplace for the most popular cabinet styles, sample doors, pre-assembled bathroom cabinets and vanities. Consider AliveAdvisor whenever you think of making over your kitchen or bathroom and simultaneously save money as well.